So, earlier this week I told you about the start of my lovely weekend away last weekend and today, I'm going to tell you about the main event – the blogging retreat that was hosted by the amazing Tots100 team.
I'm naturally quite shy and because of that, I generally avoid these types of events but after loving last year's UK Money Bloggers conference as much as I did, I decided that leaving my comfort zone every now and again was a good thing.  Mr Frugal treated me to the weekend as part of my Christmas present and ever since I found out I was going I've been torn between excitement at everything I knew was planned and sheer terror at the thought of spending a whole weekend with so many people I didn't know.
I arrived early on Friday afternoon and went up to my room to unpack and then I sat on my bed and thought about whether to stay in my room and wait for someone I knew to arrive or whether to just bite the bullet and go meet some new people.  I went with the second option and bravely (it felt brave to me anyway) went to join the other bloggers sat in the glorious sunshine on the gorgeous lawns at the back of the beautiful old hall we were staying in, Croydon Hall.
That walk from the back door of the hall to the table where about 10 ladies were sat chatting was quite possibly the longest walk of my life but I made it and pulled up a chair at the table.
Straight away, I felt welcomed and was joining in with the conversation in no time at all.  It was such a relief and all of the worries I had literally drained away from me and from that moment on, I had the best weekend I can remember having in a long time.
I was a little apprehensive when we were given a yoga mat ready for the welcome session but I thoroughly enjoyed the relaxed yoga session which was amazing and I couldn't believe just how relaxed I felt at the end of the session!  Everyone should do yoga in a field outside surrounded by inspirational women at some point in their lives – it's not something I could ever see myself doing but genuinely, laid on a yoga mat in the sun in such a state of relaxation was the perfect start to the weekend.
That amazing session was followed by a bit of an informal golden hour photography session with the very knowledgeable Tom being on hand to share his considerable photography wisdom which would have been fab but I spent most of this session catching up with old friends and making some new ones.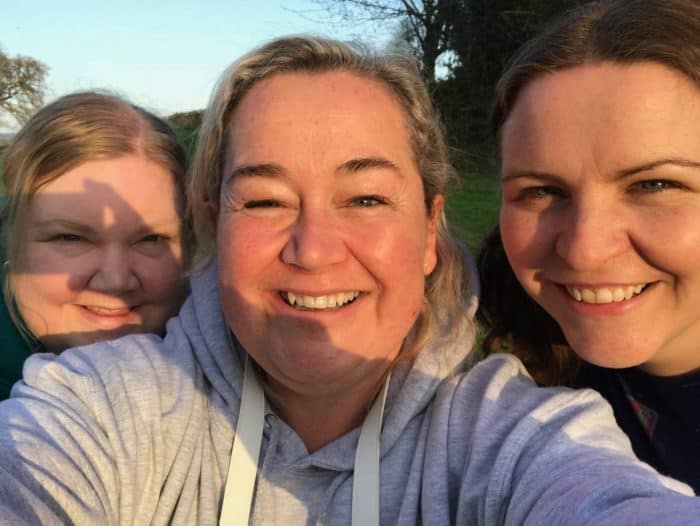 I'm almost embarrassed to say that I was in bed not long after our evening meal – all that fresh air and relaxation is more tiring than you expect!  I wasn't the only one though and I think that the whole place was silence well before midnight.
The next day I had some amazing sessions beginning with a creative writing session with Kirsty Pelling.  Kirsty is amazing at getting your creative juices flowing and I was very surprised when my writing got very personal and reflective – she has an amazing way of getting you to think and just to write what's in your heart.  What I wrote was so personal that I didn't feel comfortable sharing it but after the session, I felt quite emotional because of what I'd written.  I ended up writing a poem about how I felt after my Dad passing away last month and it was far from a literary triumph but it did get down on paper the things I've been struggling to get out.  I've hidden it away at the bottom of my bedside cabinet where it may never see the light again but it's out now and for that, I feel so much better.
I then went on to some less emotional sessions thank goodness and learned a lot about food photography and product photography.  I was so amazed at the results I could get from some pretty cheap equipment.  Look at this that I took on my iPhone…
Next up was a beach photo walk which was actually just a lovely walk on the beach with Becky with the odd photo being taken.  We had such a lovely catch up and I realised that it's been much too long since we'd had the chance to have a good old chat and I'm determined it won't be that long again!  Becky – if you're reading this, watch out I'll be coming for you soon! 😉
We then had an amazing meal together followed by a lovely evening chatting, laughing and generally having an amazing night with some very lovely ladies!  I even managed to stay up until after midnight on Saturday night which is a huge achievement!
Sunday started with a sausage bun and was followed by a session on how to make travel videos along with the chance to play with lots of gadgets that could up our video making game although there was no 'you need this' or 'you have to have this'.  It was generally just a chance to have a play and experiment and I loved it.
After lunch, we had a bit of a positivity workshop which was the perfect end to a perfect weekend and left me feeling all warm and fluffy.
Thanks so much to Sally, Lindy, Sarah, Monika and Louise and for hosting such a wonderful weekend!
Don't miss out on future posts like this – receive updates directly to your inbox by email by adding your email address here and hitting subscribe. You can also follow me on Twitter, BlogLovin or Networked Blogs and I'd love to see you over on my Facebook page and on Instagram.