It's almost time for the Elf on a Shelf madness to start!
Whether you love them or hate them, I imagine it's going to be almost impossible to avoid these little fellas from next Tuesday when they will descend on households across the country.
If you haven't already got your elf then there are plenty of ways to take part in the Elf on a shelf tradition without spending a fortune buying the (creepy looking) elf and all of the associated paraphernalia.
Have a look here for my budget version of Elf on a Shelf:
Once you've got your elf and you're ready to go then you need some ideas for what to do with him.  Now the idea is that your elf will do something mischievous every day but ours is a good guy and is only occasionally naughty while he's staying with us.
I've written a HUGE list of ideas for what your elf can get up to so whether you want him to be naughty or nice, there's at least a couple of ideas for every day.
They can introduce themselves by bringing being there on the morning of the 1st December with the advent calendars and a note from Santa.
Steal a chocolate from the calendar later in the month.
Have a mini marshmallow fight with another cuddly toy.
Have a bit of a cookie and a glass of milk.
Hang the kids' (clean) pants on the Christmas tree.
Wrap the tree in toilet roll.
Write a message in lipstick on the bathroom mirror.
Sunbathe on the windowsill with a cocktail umberella.
Turn all the books on the shelf upside down.
Have nerf gun fight and leave nerf darts everywhere.
Hang from a ceiling light.
Sleep in the freezer because it's missing home.
Open a packet of sweets and scatter them around the elf.
Hide a shoe.
Hide in a school book bag, peaking out as if he wants to go to school.
Take a ride in a Barbie/Action man car.
Turn the books on the bookshelf upside down.
Sit in the washing machine as if he's stuck.
Have a tea party with some other toys.
Sit and play on the ipad.
Play a board game with the other toys.
Create a lego tower.
Take the batteries out of the Xbox controller.
Take selfies.
Colour in their colouring books.
Empty the toybox everywhere.
Pretend to fly on a paper aeroplane.
Go back to bed after the kids have got up.
Sit and watch TV with the remote control.
Play with a favourite toy.
Hide the kids' electronics.
Get dressed up.
Bring in some leaves from outside.
Unwrap a present.
Write the kids a note saying how nice/naughty they've been.
Open a can of pop and drink it with a straw.
Try on some costume jewellery.
Cut up a note (a not every important one obviously)
Be waiting in the car for the school run.
Sleep in the dog bed.
Stick post it notes everywhere.
Take some of the baubles off the tree and put them somewhere else.
Fill your child's bedroom with balloons when they get up in the morning.
Put the chairs on the dining room table.
Make elf footprints out of flour.
Bake a cake with some flour scattered and a wooden spoon.
Draw faces on a picture (use a framed one with a dry wipe marker to draw on the glass).
Swap your Christmas stockings for underpants or tights.
Sharing a drink with Barbie (1 glass, 2 straws).
Turn the advent calendars upside down.
Use glow sticks as hula hoops.
Read a book to the other cuddly toys.
Teach the other toys as if he was a teacher.
Lock him out of the patio doors.
Leave a message using scrabble tiles.
Let him ride a reindeer if you have a decoration like that.
Wrap the toilet in wrapping paper.
Make a tyre swing using a big Lego tyre.
Make him poorly – tuck him up in bed with some Lemsip.
Make a swing out of an empty toilet roll.
Make him a fishing rod and he can fish at the sink.
Play Connect 4 with a doll.
Make a bed out of marshmallows.
Play Twister with the other toys.
Ski with candy canes.
Make him a superman cape.
Have him eat the dog biscuits and leave a note saying 'Worst cookies ever!'.
Peg him out on the washing line.
Have a snowball fight using cotton wool.
Have a disco with the other toys.
And for even more ideas and inspiration, have a look at my Pinterest board here:


Don't miss out on future posts like this – receive updates directly to your inbox by email by adding your email address to the box on the top right of this page and hitting subscribe. You can also follow me on BlogLovin or Networked Blogs and I'd love to see you over on my Facebook page and on Instagram.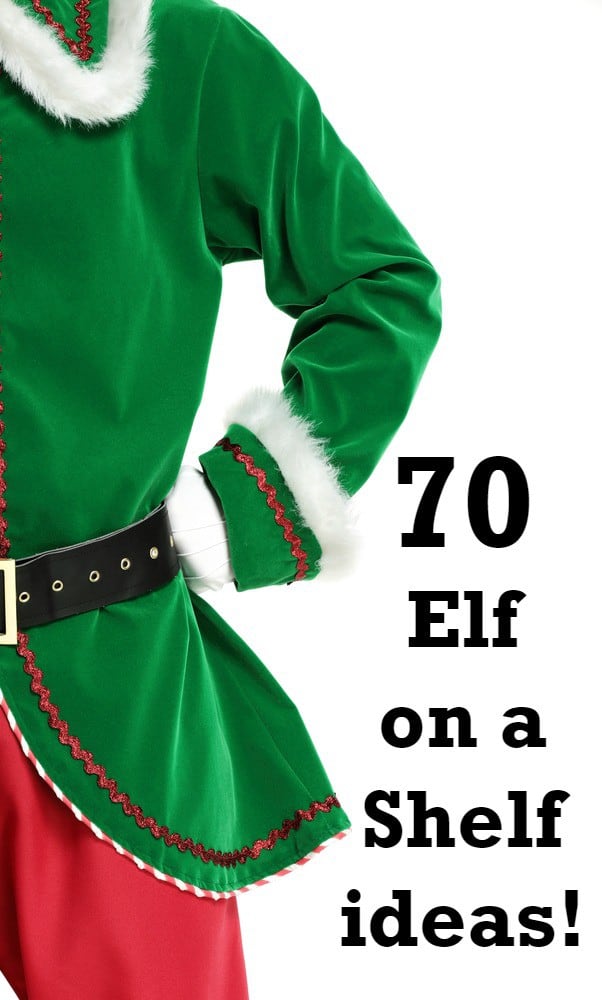 Image credit: Shutterstock,  S_Photo