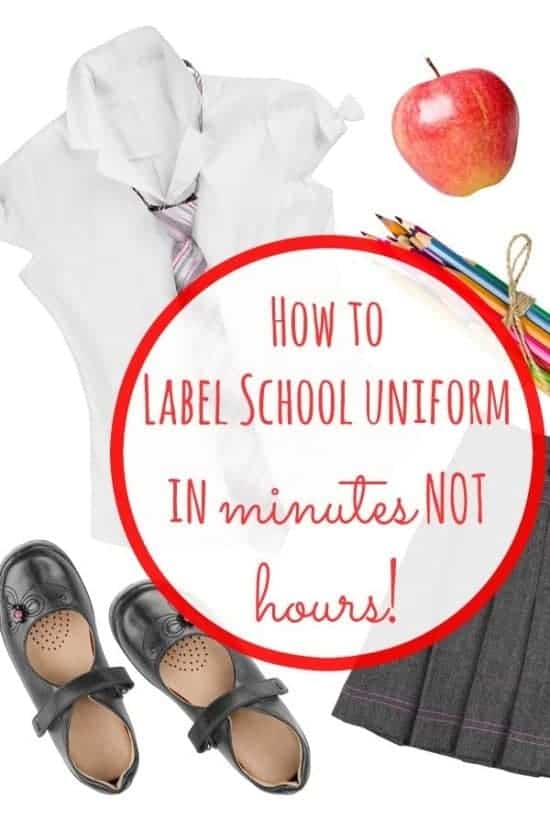 I remember the week before Miss Frugal started school well.
I remember it because I spent most of the week (or what seems like most if it) sewing little name tags into all of her clothes.
By the time Master Frugal school a couple of years later, I'd discovered iron in labels so I only spent an afternoon getting their uniforms labelled up and ready for the start of school.
By the time they were both in junior school I had labeling clothes down to a fine art and several years later Ican now label every item of clothing in less than 10 minutes!
Want to know my secret?
It's this little fella:
I simply write their name on tag somewhere on the clothes – most pieces of uniform now comes with a tag with a space for you to write your child's name and the Sharpie laundry pen that I use doesn't come out when you wash it and it certainly lasted longer than the trousers which Master Frugal always seem to wear out at the knees!
I tend to have a quick look when I iron the clothes to make sure the name is still clear and I think I had to write over the names once on a couple of the longer lasting items last year so it's a definite time and money saver!
I've seen a few other markers similar to this one in town so I'm sure they'll be just as good and to be honest, the first couple of years I did this I just used a normal marker pen and that worked fine too!
There's much more fun things to do in the Summer Holidays than sit and sew / iron labels into clothes.
The name labels can be itchy (or so I'm told by Master Frugal).
You have to buy the name labels and they're not usually cheap
You have to pre-order the personalised labels and wait for them to arrive.
There's an easier way to do it!
How do you label your children's clothes?
Don't miss out on future posts like this – receive updates directly to your inbox by email by adding your email address to the box on the top right of this page and hitting subscribe. You can also follow me on BlogLovin or Networked Blogs and I'd love to see you over on my Facebook page and on Instagram.
Image credit : Shutterstock, Didecs