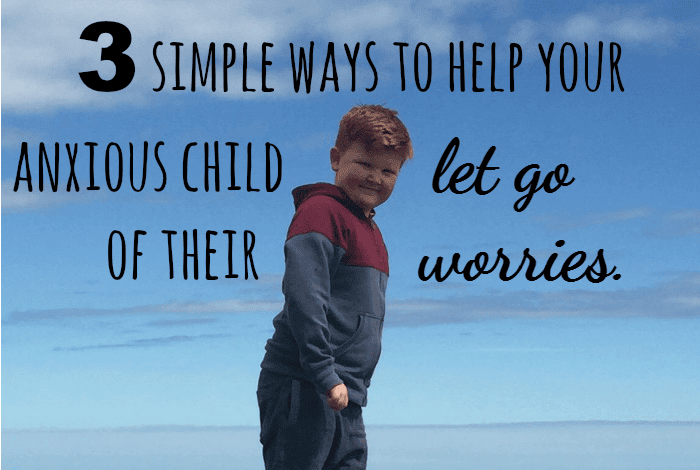 Master Frugal has always been a sensitive child and he's always had a habit of worrying about things that seem relatively unimportant to everyone but him.At one point, his worrying was causing him tummy pains on a night which made it difficult for him to sleep and we  actually thought there was something more sinister wrong with him.   After lots of blood tests and much prodding and poking by the doctors, it was decided that he was actually suffering from mild anxiety which was a huge relief at the time and made total sense knowing what a little worrier he's always been.
It wasn't that he worried all the time or that he was overly anxious about everything but more that when there was something on his mind he would over-think whatever it was to the point where he would blow it out of all proportion in his head by thinking of all the worst case scenarios that could possibly happen.
In the 18 months or so since we were told that he was suffering with mild anxiety we've made some amazing progress and it's been a good 7 or 8 months since he's had tummy pains on a night which shows how much better we've all learned to cope with his worrying.
Play
The first things we tried were those little worry dolls you can get along with a worry eater teddy but I think he was a little old for them when we tried to introduce them – both could have helped massively when he was a little bit younger though so if you have a child who's a bit of a worrier then I'd definitely give these a go.
Talk
Next, we tried setting aside specific time every night for just him and me to lay on the bed together and just talk.  We talked about what that day had been like for both of us about what the next day could hold for him and asking if there was anything he was specifically worried about.  I told him about things that I was worrying about too and together we worked out a bit of a coping strategy for everything that either of us were worried about.
It helped him a lot when we used to do this as we would talk about what he was worried about and more importantly why he was worried about it.  Once I knew that, I could reassure him that it wasn't as bad as he thought and we could talk about the various different ways that the situation could go.  We talked about the worst that could happen and most of the time, the worst thing we could think of wasn't as bad as he'd thought which reassured him.
Talking about his worries often made him feel so much better that he stopped worrying about whatever it was but even when it didn't, it still made him feel a lot better and helped him to deal with his feelings better because he could put into words what it was he was worrying about and he could rationalise the potential outcomes to understand that it wasn't such a big deal.
After a few months, we cut this down from nightly to whenever was needed as it had helped him to the point where he could look at a situation he was worrying about and assess it himself.  It wasn't often that he needed my help to do this anymore and his tummy pains were virtually non-existent by then.
Move
About six months ago I had the opportunity to attend a work event with an amazing celebrity motivational speaker who talked a lot of sense about how we often let ourselves be held back by our thoughts and worries.  I can't for the life of me remember this man's name and his business card is in my desk at work so I can't tell you who it was but I can tell you that he's been on TV loads teaching people how to change their thinking to achieve the things they want in life.
I might have forgotten his name but I certainly haven't forgotten his advice because it was like he was talking right at me about the way I approached my own life the whole time he was speaking.  The talk he gave really affected me and made me realise a few things I could change about myself but I also realised that he could have some great advice for me to help with Master Frugal.  So, I stalked the poor guy and tracked him down while he was trying to enjoy his lunch bless him and I asked him for some advice about Master Frugal.  I explained that the coping strategy we had in place at that time was for us to lay down before bed and talk and he looked at me and said that he would deal with things differently. He said that it sounded like we'd dealt with the majority of the worrying effectively but from now on, when Master Frugal told us that he was worrying about something, we should change his environment and get him moving.
Now, whenever Master Frugal has something on his mind, we put on our coats and head out the door and walk the dog while we talk about whatever it's that he wants to talk about.  We do pretty much the same thing as we used to do when we lay on the bed but now there's less chance for him to dwell on things and often, by the time we get home we've completely finished talking and we're chatting about whatever else came up on our walk with the worry long forgotten.
All children are different but these three things have changed him from worrying to the point of feeling ill three or four times a week to being able to rationalise his concerns, accept that they're normal, think about the outcomes of any given situation and move on feeling much more relaxed.
Don't miss out on future posts like this – receive updates directly to your inbox by email by adding your email address to the box on the top right of this page and hitting subscribe. You can also find me on BlogLovin, Yummly and Networked Blogs and I'd love to see you over on my Facebook page and on Instagram.