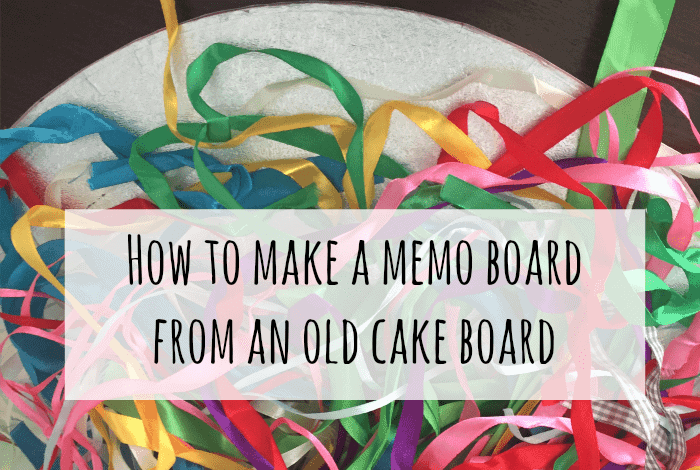 Miss Frugal turned 13 recently and a very lovely person made her the most amazing Birthday cake…..
It was perfect and believe me, it tasted every bit as good as it looks and every single bit of it was edible apart from the cake board that it was sat on, which brings me to the subject of this post!
I really didn't want to throw the cake board in the bin as that seemed like an awful waste, especially considering the £3.68 price sticker that was stuck to the underside of the board!  I'm not a cake baker myself so I knew it had no chance of ever being used again as a cake board!
I've had it on my kitchen counter for a few weeks while I've tried to think of what to make with it but there didn't seem to be much use for a redundant cake board.  At least it seemed that way until Miss Frugal tidied out her bedside cabinet and found a whole pile of photos, notes and other scraps of paper that she absolutely couldn't throw out because they were 'totally essential'!
As soon as I saw the pile of paper on her bed, I decided to make a memo board for her bedroom so she had somewhere to store it all and the cake board seemed like a good thing to use!
I chose two different coloured ribbon from our ribbon scraps jar (a remnant of their younger crafting days) and used drawing pins to secure them on the back in a criss cross style, weaving them under and over each other as I went!
This is the back:
I added a bit of ribbon looped at the top to hang it by and I think it looks quite good hanging on her bedroom wall:
It obviously looks much better filled with all of her 'special' scraps of paper and photos but I can't show you the full version as it's filled with photos of her friends. 😉
So her special 13th Birthday cake board is now on her bedroom wall as a reminder of her amazing cake!
Don't miss out on future posts like this – receive updates directly to your inbox by email by adding your email address to the box on the top right of this page and hitting subscribe. You can also follow me on BlogLovin or Networked Blogs and I'd love to see you over on my Facebook page and on Instagram.