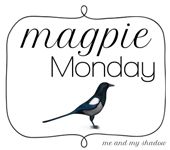 It's been a while since I've joined in with Magpie Monday but it's car boot sale season again and I got some great bargains yesterday so I thought I'd share them with you.
The first of the bargains were for Miss Frugal who's fast becoming a little lady.  She has very strong ideas on what she will and won't wear most of the 'won't wear' category consists of things that everyone else likes to wear – jeans, t-shirts and just about anything else that you'll find her classmates wearing! She's quite girly and loves dresses and car boot sales are a great way to get her new clothes for next to nothing.
Yesterday we found these two lovely dresses….
The white one is from the Kylie range of dresses and the pink one is a Next Signature dress that looks so much nicer than the photo shows.  Both were brilliant bargains at less than £2 each and I know she'll get lots of wear out of them both.  We also got lots of tops from one stall for 30p each but I couldn't get her to try them all on for me tonight.
We also bought something that we've all been after for a while – a plasma ball….
A great bargain at £2 and it's a good quality one still in it's original box so we're pleased with our little bargain.
The last thing I wanted to show you was a new addition to our board game cupboard….
Deal or No Deal for just 50p!  Board games are so ridiculously expensive these days and we're always on the look out for new ones to play on family game nights (although one of us always gets a little bit too competitive – looking at you husband) so car boot sales are great for picking up new games to play.
So, here's my bargains.  If you want to nosey at some other bargains, pop over to Me and My Shadow and have a look at Magpie Monday.