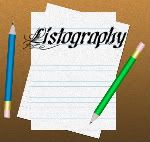 Following on from my post about what makes the kids happy, I'm going to join in with this week's Listography and tell you 5 things that make me happy….
Fridays – I love finishing work on a Friday afternoon knowing that I have the whole weekend ahead of me.
My Kindle – I wasn't sure about getting a Kindle but now I have one, I couldn't be without it.  I love reading and I've read more lately than I've read since before the kids were born.  Mr Frugal bought himself one too and we love going to bed early and snuggling up with our Kindles (we like to live on the edge :-)).
New bed feeling – This has got to be the best feeling in the world – getting in to bed on a night when you've just changed the sheets!
Cake – I don't need to say anything about this one, do I?
Getting to the day before pay day and realising that we actually still have some money left – It's only recently that we've actually managed to achieve this and I love the feeling of knowing I can go to the cash machine and being able to open my bank statement without feeling nervous.
I've been feeling a bit down this week, for no reason at all really, other than the fact I'm tired and in need of a week of work I think but now I know what I need to do – change the sheets and go to bed with my Kindle and some cake!