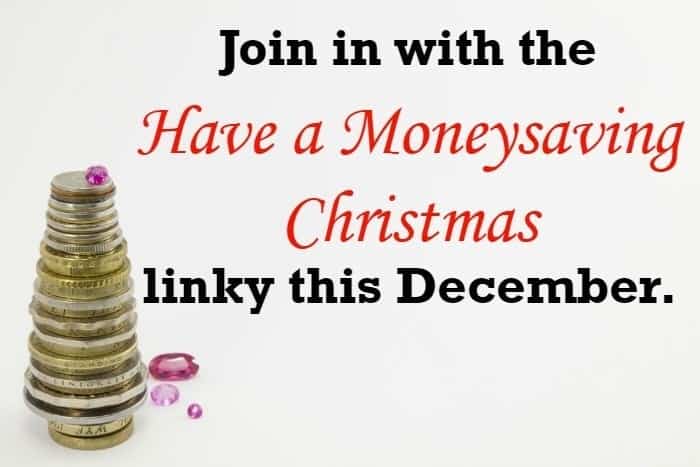 Happy 1st Day of December!
Today not only marks the official start of Christmas (according to my advent calendar at least), it also marks the first day of the most expensive month of the year for most of us.
I've written lots of posts over the past few years about my ways to save money at Christmas but I know there's lots of ways that I've never even thought of which is why I thought it would be nice to have a bit of a Christmas money saving linky going on.  I'd love you to link any and all of your Christmas money saving posts up this year so we can all share each other's ideas about how to save money at this, the most expensive time of the year.
The first post I'm going to add to the linky from me is one that I wrote two years ago about the things you know you should be doing but quite possibly don't do….
There's lots of tips in that post if you have a few minutes to have a read but I thought I'd kick off today with my biggest Christmas money saving tip….
Know your budget and stick to it!
It's so important to work out how much you can afford to spend because January will seem like a very long miserable month if you spend more than you planned to at Christmas, no matter how much you thought it was worth it at the time!
The thing I find is a challenge (although I'm much better than I used to be) is the worry that the kids will wake up on Christmas morning and be disappointed with what I've got them.  In the past, even when I've been all bought and had everything wrapped up, the sight of things that people have bought their children or a Facebook status about how much someone has spend on their children has made me feel compelled to go out and buy something else.
These days, I realise that the kids would never be disappointed with what I get them because (a) I'm an awesome present buyer and (b) I put so much thought into what they get that I know they'll love everything. 😉
I don't begrudge the things other people buy their family and friends but I realise now that it's not a competition and that it isn't about who has the biggest pile of presents!
Oh, and I always keep money back from my presents budget to spend in December if I do see something amazing!  If I don't then I spend it on a present for myself!
Now it's your turn!
We'd love to see your moneysaving at Christmas posts  / instagram links/ YouTube vidos linked up with us – anything that saves you money is brilliant!  Just add your link to the linky at the bottom of this post and we'll pop over and visit.
I'll make sure that I Pin your posts to my All things Christmas board on Pinterest and I'll share some on Facebook and Twitter too.
Don't miss out on future posts like this – receive updates directly to your inbox by email by adding your email address to the box on the top right of this page and hitting subscribe. You can also follow me on BlogLovin or Networked Blogs and I'd love to see you over on my Facebook page and on Instagram.