Today I'm sharing a few tips to help you decline Christmas party invites in a nice way without damaging your relationships with friends and family.
If you're anything like me, the closer Christmas gets, the more invites start piling up for various different Christmas social events – there's the work Christmas party, the drinks after work with one group of friends, the night out in town with another group of friends, the meals out with friends you rarely see (sometimes with good reason) and even just the invites to pop round to friends and family's houses.
Some I wouldn't miss for the world and I wouldn't want to miss out on but some I really could do without and in past years, I've only gone along because I thought it would be rude not to and that I'd be thought badly of if I didn't go.
This year though, I'm determined that I'm going to enjoy a simpler Christmas (for the most part – I'm off to New York for five days right before the big day) so I've politely declined quite a few invites already.
My work's Christmas party for example, I won't be going because I'm away to New York the week after so even though I'd love to go, I know that I'll really want that weekend to relax and get myself sorted. If I went, I'd be staying over on the Friday night and the Saturday would pretty much be a write off as I'd be shattered by the time I got home. I said no from the start and explained why and I think everyone understands. If they don't though, I'm not worrying and definitely won't be going just because I feel like I should.
Another thing I've said no to is a girls spa day because I'm really not a spa fan so to spend a day in a spa isn't my ideal day – especially when I'm having to pay for the privilege right before an expensive time of year. I've explained to my closest friend (and the one who'll probably read this) the real reason for me not wanting to go but everyone else who I don't know as well just thinks it's because I already have plans that day that can't be changed. I know it's best to be honest but honestly, I don't really know most of them too well and it was just easier to use an excuse rather than have them try and talk me into going.
And the last thing I can think of is a girls night out in town that I've declined but I've offered an alternative that I think we're going to go with – basically, I don't really enjoy a Christmas night drinking in town anymore and haven't for a good few years so this year, I've said I don't fancy braving the cold and the crowds of people so why doesn't everyone come to mine. Instead of getting dressed up we can have a few drinks at mine and have a good catch up rather than shouting over the noise and yes, I know that makes me sound old but hey, I'm getting that way. I've made it clear that if my friends would rather go out then that's not a problem at all but if they fancy a night round mine (aswell as or instead of the night out) then they are more than welcome.
I feel like I've managed my holiday calendar pretty well so far so I thought I'd share a few tips with you to help you do the same…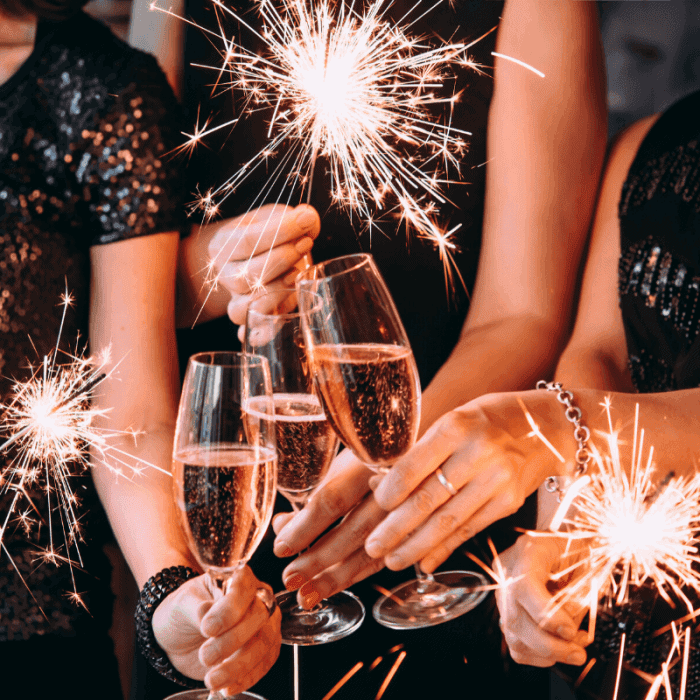 Just Be Honest
This won't apply to all invites (depending on the reason you're saying no in the first place) but where possible, just tell the truth and explain the reason why you're not going to be going. This is always my preferred option because, aside from the fact that honestly is (almost) always the best policy, it means that your family and friends will understand and won't try as hard to change your mind.
Also if you know you won't be going, don't accept the invite for an easy life and then pull out at the last minute with an excuse.
Have an excuse ready
There are lots of reasons that you might not want to be honest about why you don't want to go – you might not get on with someone else who's going, you might not want to do what's planned, you might have very persuasive friends who will try (and probably succeed) in talking you into changing your mind or there might be any number of reasons. Whatever your reason, if you don't feel you can be 100% honest about why you're not going then have a couple of excuses ready to go in your head.
You might say you have a family meal that night or a day out with the kids that you can't change – no judgement here if you make something up rather than just say you don't want to go.
Confirm either way
Whether you're going or not, it's always polite to let people know so they can make plans and get an idea of numbers. It's super rude to just ignore the invite and pretend you didn't see it rather than respond.
Offer an Alternative
Always feel free to offer an alternative to what's planned like I've done with my girls night out. I don't want to get dressed up and go into town to spend time with one of my friend groups because it's not really 'me' but I do love my friends and want to spend time with them so I've invited them to mine instead. I've made it clear that I absolutely don't mind if they still go without me and said we could do mine on a different night so they can do both but they're good friends and they know it's not really my thing. I'll see them lots through the month anyway so I can deal with missing out on one night – I'll probably feel like I'm there anyway if I follow along on Instagram Stories. 😉
Be Confident
No doubt you're a lovely person who your friends want to spend time with over Christmas so more often than not, you're going to have to deal with someone trying to persuade you to change your mind. Just be confident and stick to your decision – if your friends see you wavering then they'll try harder to persuade you to go.
At the end of the day, the host that's taken their time to invite you to their holiday party does deserve a yes or no answer. Politely declining a party invite will better hold your relationship with this person to a higher standard and allow them plenty of time to prepare for the number of guests who will be in attendance. You'll find when you use these tips for politely declining a holiday party that many hosts will be rather understanding if you can't make their event.
Why not pin 'How to say NO at Christmas' for later?