I hate when those little bobbles appear on my favourite clothes and up until now, I've never found a foolproof way to get rid of them. I have now though so today, I'm going to tell you how you can remove bobbles from your clothes and make them look as good as new again!
First up, what causes these pesky little bobbles?
Basically, bobbling happens when there's friction on the fabric as the fibres on the clothes' surface rub together. This is pretty much the reason why the area under your arm and down the side of the item are usually worst affected as they're the bits that rub together the most.
You'll often notice the bobbling more after you've washed it as the wash will pull the loose fibres together and make them into little bobbles on the surface of the fabric.
The technical term for these little fabric bobbles is pilling. 😂
Can you prevent bobbling on your clothes?
I'm not 100% convinced that there's a foolproof way to prevent bobbling but there are a couple of ways that you can reduce it…
Wash clothes inside out and then if the fabric does bobble due to washing, in theory it would be on the inside.
Don't overfill the washing machine as that will cause clothes to rub together more.
Use the appropriate wash and spin cycles for your items as too long in the drum or too much spinning will mean more rubbing.
A fabric softener will reduce the rubbing during the wash.
How do you remove bobbles from your clothes?
So, you could do all of the above and still get bobbles on your clothes so you're going to need to know how to remove them! The first solution that you'll come across will be to use a disposable razor but I've never had much success with that if I'm honest unless it's just in a super small area.
I tend to find that the razer blunts and clogs really quickly so whilst it works for the first couple of goes over the fabric, it's then less effective so I need another razor. It's not even just the effectiveness of using razors that puts me off using this method to remove bobbles, I'm also not a fan of using a disposable product for this, to be honest.
Another method I've tried using is a sticky lint roller which works for the light bobbling as does a bit of sellotape sometimes but the one tool that's done a good on everything I've tried it on is the fabric shaver that I've bought from Amazon which is a genuine game changer!
I bought it from Amazon as I was a bit sceptical that these gadgets would work so I wanted one with good reviews and this one had almost 2000 reviews with a 4.5 star rating so I was reasonably confident that I was paying for something that would do the job. What I wasn't expecting was how well it would do the job.
The first thing I tried it on was my favourite, relatively new jumper from M&S which had quite bad bobbling around the underarms and chest area. I genuinely couldn't believe what a good job it did so quickly!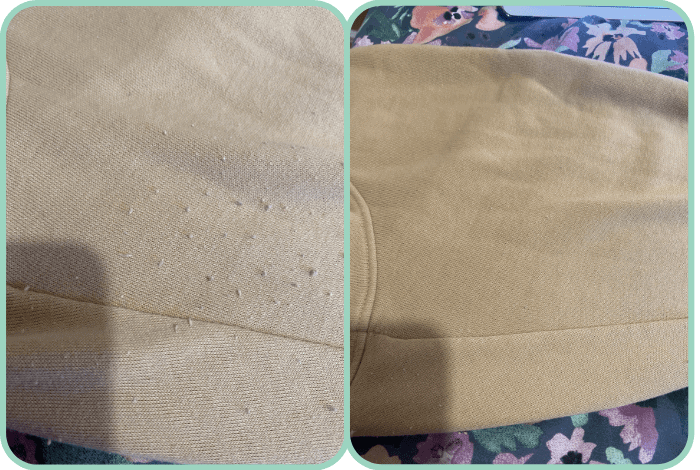 The M&S jumper was a jersey type fabric so the next I tried it on was a knitted jumper which wasn't too bad as it's only just started to become visible.
And then finally, I used it on a cushion that I bought a while ago which has bobbled really badly. It wasn't expensive and the bobbling was so bad that I was on the verge of just giving up and throwing it in the bin. I'm glad I didn't, if only because the before and after pictures of this one really shows how much of a difference this little gadget makes.
Just look at the difference!
It's amazing and for the price I paid for it, it's actually been a great investment already and I believe it's already paid for itself with the clothes that it's saved so far even in its short time with me,
This is the one that I bought, it cost £11.89 and was worth every penny! (aff link)
Don't miss out on future posts like this – receive updates directly to your inbox by email by adding your email address here and hitting subscribe. You can also follow me on Twitter or BlogLovin and I'd love to see you over on my Facebook page and on Instagram. If you're interested, you can find out more about me here and while I've got your attention, if you're wondering why some of my posts lately are a little bit less frugal then have a read of this post. 😉
Do your future self a favour – Pin 'How to remove bobbles from your clothes' for later: