In the last month, I've earned just over £100 from TopCashBack without making any particular effort so today, I'm sharing how I did it with you guys in case any of you aren't already converted to cashback websites.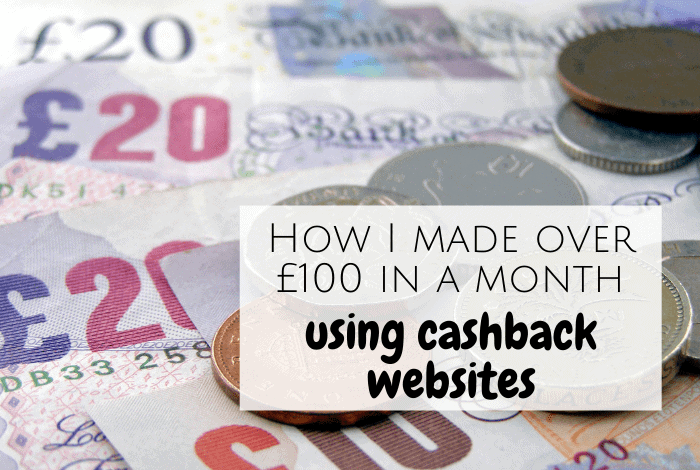 I know it's not a huge amount but I haven't made any special efforts so I thought you might be interested in seeing how easy it is to earn cashback.
Whenever I tell people how easy it is to earn money with cashback websites, I get one of three answers…
(a) You don't need to tell me! I use them all the time.
(b) Ah, I know about cashback websites but it feels like it's going to be too much effort.
(c) Cashback websites?
Are you an a, b or a c? If you're an (a) then high five you! You're excused from the rest of this post. 😇 But if you're a (b) or a (c) then you really need to give it a go.
MoneySuperMarket – £35
Hot on the heels of Miss Frugal getting her own flat, she's now passed her driving test! I bought her a car a while ago and my intention was always to pay the first year's insurance for her so the day she passed, we used Money Supermarket via Top Cashback to compare some prices and managed to get a great deal on her car insurance with £35 cashback for going via TopCashback.
And by a great deal, I mean a GREAT deal considering it's her first insurance policy after passing her test – £692 for a year! That's fantastic compared to the other process we were being quoted and much less than I was expecting to have to pay although still a big chunk to fork out!
TopCashBack MoneySuperMarket offer
Now I just have to get over the vague panic I feel every time I know she's driving and I'm not sat next to her being an extra set of eyes!
Refer a Friend – £25
With Miss Frugal moving out, we had a TopCashBack lesson (which is kind of what inspired this post to be honest) and I taught her how to use the site and how it's genuinely easy money as you're just doing what you do but via TopCashBack.
She asked me how she would know if a company was on TopCashBack and said she'd never remember to check so I've told her to install the browser extension as that makes it even easier to earn as you'll get a pop up letting you know if the site you're on is on TopCashBack with a link to use to make sure you earn the cashback.
She's now all signed up and obviously, I made her use my refer a friend link so I get a cheeky reward as well as her getting a £10 bonus.
Refer a friend link (£10 bonus for you if you use it at the moment 18/02/22)
Ladbrokes – £31.50
I'm not recommending this one at all as it's way too easy to set up and register but I had my reasons for wanting to make a bet on the recent Boro Vs Man Utd match (have a read of number 5 in this post) and I literally just bet the £10 minimum I had to in order to get the cashback.
I put £5 on a 3-2 Boro win, which I knew was an unlikely result but was the point of me making the bet and Master Frugal asked me to use the rest to bet that a particular player would score and would you believe that he won? £35 was withdrawn after the match and I don't plan to be betting again.
Clear Score – £6
I have the free version of my credit file with Experian which is fab but I wanted the full version to have a look so I could do a full check on what I had going on so I decided to sign up with Clear Score which is free forever and gives me access to my full score and data. I was just signing up to it when I got the TopCashBack pop up so I clicked through and earned £6 cashback at the same time.
I'm guessing it's a free service because they email you recommendations for cards, loans and accounts that could save you money and I think I get around three emails a week from them. You can control your emails though so just say no emails when you sign up if it is literally just your credit report that you're after.
Get your credit score for free.
So that's how I made over £100 in the last month in cashback. I hope I've persuaded you to go have a go yourself and see how much you can earn!
Don't miss out on future posts like this – receive updates directly to your inbox by email by adding your email address here and hitting subscribe. You can also follow me on Twitter or BlogLovin and I'd love to see you over on my Facebook page and on Instagram. If you're interested, you can find out more about me here and while I've got your attention, if you're wondering why some of my posts lately are a little bit less frugal then have a read of this post. 😉
Do your future self a favour – Pin this post for later: