Although I'm not usually a superstitious person, I'm convinced that our last house was jinxed.  From the day we heard that our offer had been accepted until when we moved out it felt like bad things kept happening to us.  In fact, in the two years that we lived there, my brother died, my mam died, someone crashed into both of our cars and totalled them while they were parked outside, our roof leaked, we found mould in the kitchen that the survey hadn't picked up, the gas company refused to install gas so we couldn't get central heating (cue massive heating costs), a giant crack appeared in the wall…. I could go on, really I could!
With two toddlers, I couldn't stand it any longer and Mr Frugal agreed to move house, even though the market was changing and it was a really bad time to be selling.  After the problems we'd had, I was determined I wanted a new house – one that we could make our own luck in 😉
Once we'd decided to move, we looked at all of the new housing estates in the area and settled on the one where we now live as it's in a really nice location for us as a family.  I'd love to live in the country one day but at the moment it's just not practical for us so we chose here where we're about a mile and a half from the town and the beach and there's parks, nature walks and shops within a short walk.
The house was just a shell when we paid our deposit and it felt like forever until it was finished, I couldn't wait to be out of our last house and it was really getting me down by the end.  Mr Frugal drove me past every night on the way home to cheer me up and every weekend the lovely lady at the Sales office handed over the keys and let me wander round just imagining what it would be like when we moved in.
Before….
After….
It was well worth the wait – from the day we walked through the door, we've been happy.  I know that a house can't make you happy, it's the people in your house that make it into a home but I genuinely do love my house.  It's a great house to raise our family in and I'm looking forward to making lots more happy memories here….
What about you, do you love or hate your house?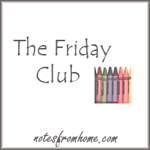 Isil at Smiling Like Sunshine tells us Home is where the heart is.
Jules at I Need Curtains for the Window In My Head posts Why Do I Live Where I Do?
South of the River Mum writes about Bringing up children in London.
Scribbling Mum explains why she lives where she does.
Jacq from Mymumdom posts about why she lives in London.
Rachel at Midlife Singlemum tells us Why she lives in Israel.
Kelly at Domestic Goddesque tells us about Wonderful, wonderful Bromley, and why I live there.
Bibsey Mama gives us 7 reasons to live in Spain in Cool España.
Helen at Cheeky Wipes tells us There's Always a Compromise.
Jenny at The Gingerbread House tells us about her home in Our house.
Cass at The Diary of a Frugal Family tells us Home is Where The Heart Is.
Jax at Live Otherwise/Making it Up explains Why I live here. Right here. In this house.
Emma at MummyMummyMum tells us about where she lives.
Cara at Freckles Family posts Where I Call Home.
Merry at Patch of Puddles writes Why I Live Where I Live.
Pure Lanzarote tell us the reasons for their choice in Why live in Lanzarote?
Ella at Notes From Home explains her choices in Why we live where we do.