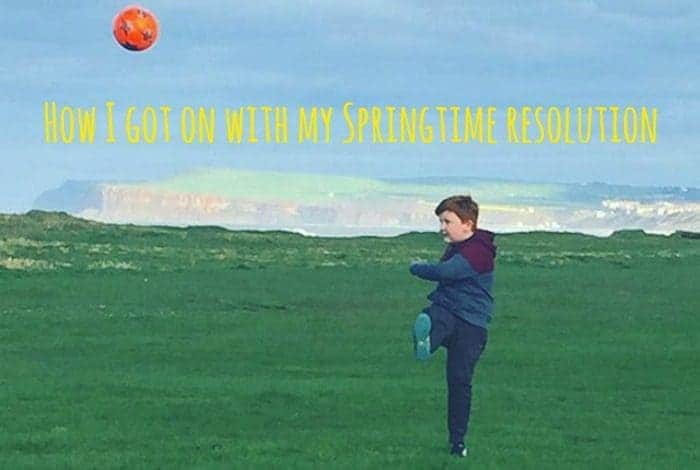 At the start of the month I shared with you my Springtime resolution, which was to lead a healthier lifestyle and today I wanted to give you an update on how the month has gone.
I've lost a total of 6lb in April so far which is brilliant, even though it's a little less than I had hoped for as I was aiming for a steady 2lbs a week.  I'm really pleased with the weight that I have lost since I started on Slimming World a few months back – especially as the clothes I've just bought in the sales are now a size smaller than I would have bought before.
It's a huge boost trying on clothes in a smaller size and having them fit and the feeling is so much better than any food could taste.  Going forward I just need to try and keep that thought in my head!
I'm not holding out much hope that the weight is going to stay off over the next week or so as it's mine and Miss Frugal's cheeky little holiday this week.  We're all inclusive and although I know I'll try and make better choices, I'm going to have a lovely holiday and not worry too much about it all as I know that I can lose any weight that I put on when I get home.
The best part of my Spring resolution is that it's encouraged us to get out more together as a family.
We've got into the habit of going out for a walk on a weekend after tea for an hour just to get out in the fresh air together as a family – we've been to play football at the beach a couple of times and we've been to every park in a ten mile radius I think. 😉
I've been reviewing a Fitbit Blaze this month which I'll tell you more about next week but I wanted to mention it as it fits really well with my Springtime resolution since it's been helping me focus on fitness.  It can do so much but even at it's most basic level of counting how many steps I do a day it's been brilliant.  I rarely hit my goal of 10,000 steps a day during the week as my job means that I'm tied to my desk for most of the day between eight and half two but it has encouraged me to walk a lot more than I would have done before and on a nice day, I'll go for a walk down by the river in my lunch just to get my step count up.
I think I'm starting to realise that my weightloss and fitness journey is going to be more of a slow and steady journey and not the quick fix that I was looking for but after really focussing on it this month, I know that I can do it and that the end results will be worth it.
I'll let you know how I get on over the next few months….
I set myself my Spring resolution after The Institute of Inertia, in partnership with Comparethemarket.com,  challenged me and a few other bloggers to show you all that if we set our minds to achieving something and follow their advice, we can achieve the things we want from life.  If you're interested in seeing what can help you to achieve your personal goals then it's worth having a look to see Institute of Inertia is all about here.  What have you go to lose?
Don't miss out on future posts like this – receive updates directly to your inbox by email by adding your email address to the box on the top right of this page and hitting subscribe. You can also find me on BlogLovin, Yummly and Networked Blogs and I'd love to see you over on my Facebook page and on Instagram.  This post is in collaboration with Comparethemarket.com