OK, I'm not sure how this has happened but it looks like I've never shared my super easy banana pancakes recipe with you!
Obviously, I'm going to put that right today but I should warn you that the photos aren't the greatest as they're actually stills taken from a Tik Tok video I was making yesterday.
I decided to have a go at making a Tik Tok video yesterday morning and because I had no clue what I was doing and didn't have anyone around to help hold my phone, I knew I was going to have to cook whatever recipe I chose with just one hand so I picked the simplest recipe that I know – banana pancakes.
Once I'd uploaded it, I came on here to add a cheeky Tik Tok link to the post where I'd shared the recipe originally and was a bit shocked when I realised I'd never shared it. Honestly, I have about 10 different variations of banana bread, banana hair masks, muffins, and even ice lollies but no banana pancakes.
So, first of all, here's my first ever Tik Tok video – possibly my last but we'll see how it goes…
And now for the actual recipe, which is so simple that it doesn't really warrant a whole recipe but hey ho!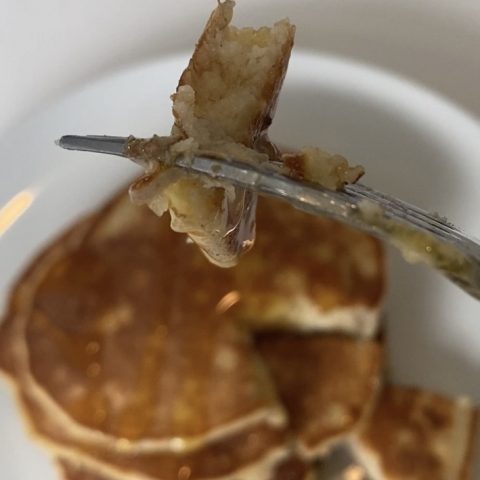 Easy Banana Pancakes
Yield: 6

Prep Time: 5 minutes

Cook Time: 10 minutes

Total Time: 15 minutes

This super easy banana pancake recipe is perfect for using up bananas that are a bit too ripe to eat otherwise.
Ingredients
2 ripe bananas
2 eggs
4 tablespoons plain flour
1 teaspoon sugar (optional)
Instructions
Mash your bananas - I like my pancakes quite smooth so I do mash the lumps out of mine but you can leave them a bit lumpier if you prefer.
Add the eggs and sugar if you're using it and give it a good mix.
Stir through the flour until the mixture is combined.
At this stage you could add other bits to make them even fancier - a teaspoon of cinnamon, a handful of choc chips, or a few raisings would go lovely if you wanted to add them to the mix.
Preheat a pan and add a small amount of oil - I use Frylight spray oil and it's literally three pumps of that for me so not much at all.
I tend to go smaller with these pancakes as they don't always hold together if I make larger ones so I just dollop this onto my pancake maker (you can just use your pan) in small batches and leave them alone for at least a minute. I use a metal spatula and push it about a little bit ane when it starts to move easily then I flip it over.
Once it's golden on both sides then I serve in a stack with some syrup or fruit.
Also, I always get asked about my pancake maker whenever I share it somewhere so (aff link) this is the one I have. I know it seems a bit extra to have a pancake maker but I bought my first one a good few years ago now after a trip to Butlins where we loved their Nutella crepes so much that I decided that I could easily recreate with a crepe maker if I had one. 😂. Turns out Nutella crepes are more of a holiday thing and no one wanted them really when the novelty wore off but I did start to use my pancake maker for normal pancakes (obviously) and then for eggs as it makes the most amazing fried eggs with just a spray of fry light spray. They taste so much nicer done on here and when my old one was dropped on the floor (don't even go there), I literally bought a new one the same day!
Don't miss out on future posts like this – receive updates directly to your inbox by email by adding your email address here and hitting subscribe. You can also follow me on Twitter or BlogLovin and I'd love to see you over on my Facebook page and on Instagram. If you're interested, you can find out more about me here and while I've got your attention, if you're wondering why some of my posts lately are a little bit less frugal then have a read of this post. 😉
Do your future self a favour – Pin 'easy banana pancakes' for later: