Last Thursday, I boarded a plane at Newcastle airport and set off on a bit of a journey – a journey that would not only take me to the other end of the country but one that I hoped would help me to begin the healing process after my Dad passed away last month.
I'd originally planned a cheeky weekend away at the Flea Retreats Blogging Weekend which was a gift from Mr Frugal at Christmas but after my Dad died, I was very tempted to cancel the weekend entirely.  In the end, after some convincing from my lovely little family, I went the other way completely and booked an extra night away at the start of my break in a secluded little B&B where I hoped to switch off from everything and let myself recover from the last few weeks.
I managed to not only fly to Bristol and pick up a hire car (added together they cost less than the train) but I also successfully navigated some of the horrific roads between the airport and the farmhouse I was heading to – you know the kinds of roads I mean where only one car can pass at a time.  That's a big deal for someone like me who isn't a confident driver at the best of times so I was feeling pretty pleased with myself by the time I arrived at my destination.
When I got out of the car, I was genuinely awestruck by the place I'd booked to stay in for the night before the retreat.  It was a working dairy farm with a big focus on growing fruit and veg – I loved it that much that I think I'll write a separate review because I paid £70 through Expedia and I think you'll agree when you see the pictures that it was a complete bargain.
The farm has some really quirky accommodations you can stay in, including some great glamping caravans and some gorgeous B&B rooms in the 15th-century farmhouse but I was given the most amazing of them all (in my opinion).  I was given a gorgeous cottage with a lovely staircase leading up to the entrance and then the most amazing beautiful space with a kitchen area, a living area and a bedroom on a mezzanine level with all oak beams and gorgeous picture windows.
Just look how relaxing it looks!
I couldn't wait to just wander in the sunlight with my camera, enjoying the peace and serenity.  And then, when it was time for me to go back to my room I sat down with my book on the stairs outside my room and read my Kindle while drinking a cup of tea.  After a facetime with the kids for the obligatory room tour, I switched off all electronics and had a total chill night with just me, my thoughts and my Kindle although I did grab my camera again just before sunset when I saw a few little visitors outside my door….
The next morning my Kindle and I drove to Hestercombe Gardens where I sat in a field on my own with a picnic made up of sliced watermelon, chocolate buttons, and a scotch egg.  I sat near a gorgeous waterfall and read some more of my book.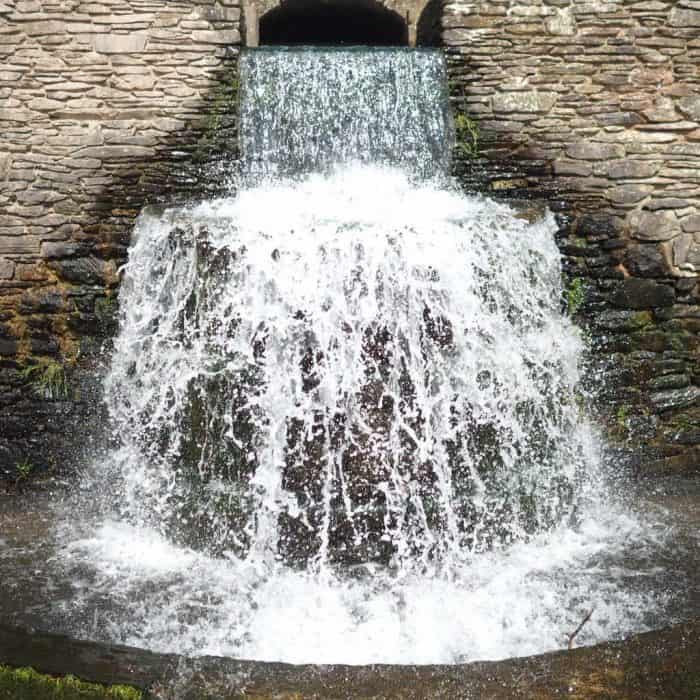 I can't really describe the feeling I had of being so far from home, after everything that's gone on and having nothing to worry about other than what I was going to take a photo of next.  It was the perfect first stage of my weekend away but now it was time to head to Croydon Hall to meet up with the rest of the bloggers who were heading to the retreat.
What followed was two days of exactly what I needed but seeing as this post is long enough as it is, I'll tell you about that tomorrow…
Don't miss out on future posts like this – receive updates directly to your inbox by email by adding your email address here and hitting subscribe. You can also follow me on Twitter, BlogLovin or Networked Blogs and I'd love to see you over on my Facebook page and on Instagram.