This is absolutely my favourite time of year, I love everything about Christmas and I spend a lot of time in the build up to the big day trying to make things as special as I can for the kids.   We have a lot of special family traditions at Christmas that I'll share with you over the next few weeks but one of the most magical things that we do for the kids each year is make a video from Santa to each of them.
I'm sure there are plenty of sites you can use to do this but we use the Portable North Pole site as it's FREE, easy to use and the results are fantastic.  You can make video's for toddlers, children or adults (each one is appropriate to the age group).  Last year I made one for Mr Frugal to tell him he was on the naughty list for spending too much time on his computer 😉
The site asks you all sorts of questions to make the video personal to the person you're making it for and it really is amazing.  I've just made one for Master Frugal, although I won't let him watch it till tonight when Mr Frugal comes in from work because his face is magical.  I'm just about to do one for Miss Frugal although I'm not sure if she'll believe it's real or not as she's on the fence at the minute about Santa!
If you want to have a look at the one I've made for Master Frugal before you make your own, the link is here.
To make your own video you need to go here.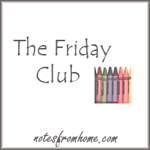 This post was written for the Friday Club – if you want to find out more about the Friday club, click on the badge above.
Here are the other entries in this Advent carnival:
Jax at Making It Up has posted about her Home ed Christmas camp Advent traditions.
Maria at Fab Mums has posted about her homemade advent calendar and even find a way to use it to teach a bit of Maths.
Sally has posted her plans for her Advent calender where she has planned something seasonal to do with her children each day.
Chris at Thinly Spread has posted about the many Advent Activities in her household including her activity Advent calendar.
Jen at The Mad House has posted about her pause in Advent to think about the non-commercial aspect of Christmas.
Ella at Notes From Home has posted about her Advent readings by candlelight.