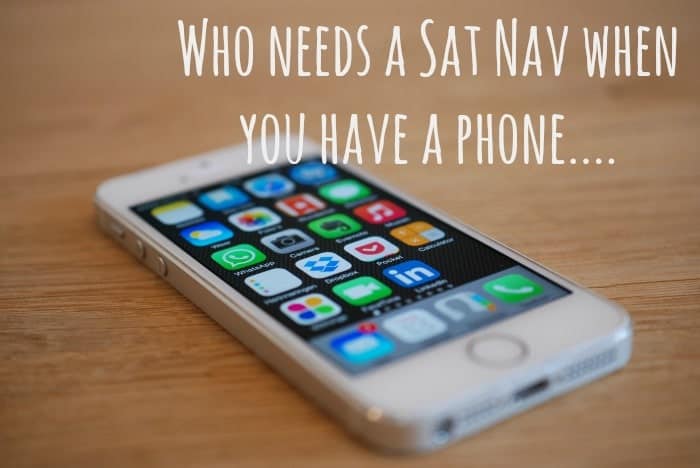 Last week, I shared my new discovery with you all, an app that you can use as a scanner, and this got me thinking that there must be lots of other things that can be replaced by an app these days.
Looking through my phone, I have a few apps on my phone that replace something I used to have so I thought I'd share a few of them with you, starting with the most useful app I think I have on my phone – Waze.  Now I know I mentioned this app a few months ago in one of my weekly 'Five Frugal Things posts but having used it again last weekend, I've decided it needs a post all of its own!
I'm not great with directions and some of our family road trips have almost ended in disaster following my disastrous map reading.  My direction to 'turn into the road that looks like a wriggly worm' was apparently not an acceptable direction and almost caused Mr Frugal to go into complete meltdown as I tried to point out why I thought the road looked like a worm as he was driving around a roundabout for the third time.
After the wriggly work incident, we tried the AA route planner where you can print out the directions step by step but that only works if you're not easily distracted like me.  After a more than a few of missed turns because I was on Facebook or trying to take a photo of the interesting cloud formations we decided a sat nav was the way to go.
We bought a cheapish one and it was OK for a while – in fact it was more than OK until I didn't attach it to the dashboard properly and it fell off when I took a hard left.  It survived the fall only to meet its untimely end as I leaned over to retrieve it from the passenger foot well and managed to spill my drink all over it! It was never the same after that and turned itself off every now and again which isn't ideal when you're in the middle of a journey!
Then we heard some good things about Waze which is a FREE sat nav app you can download on your phone.  It's completely free so although we weren't expecting too much out of it we downloaded it and used it for a few smaller journeys around town to test it out.
It worked brilliantly in and around the town where we live so we decided to test it out on a longer journey and I have to say, it was brilliant.
Not only does it tell you where there's roadworks or speed cameras, it also tells you when there's traffic and occasionally re-routes you when it finds a quicker route.
It's easy to use and so convenient to have it on our phones!
The only thing I would say is that it can be a bit of a better drain on longer journeys so it might be worth having a charger you can use to charge it in the car.
So, now you know that you don't need a sat nav to make sure that you never get lost again!
Don't miss out on future posts like this – receive updates directly to your inbox by email by adding your email address to the box on the top right of this page and hitting subscribe. You can also follow me on BlogLovin or Networked Blogs and I'd love to see you over on my Facebook page and on Instagram.