Mr Frugal bought me the Fitbit Charge 3 as part of my Birthday present a few weeks ago and because I love it so much, I thought I'd share a bit of a review of it with you.
(To be clear, he bought it himself, this isn't an ad in any way)
I've been saying for ages that I'd like a Fitbit but they seem quite expensive for what they are (or so I thought) and I just couldn't bring myself to buy one for myself so you can imagine how pleased I was to wake up on my Birthday to this little beauty!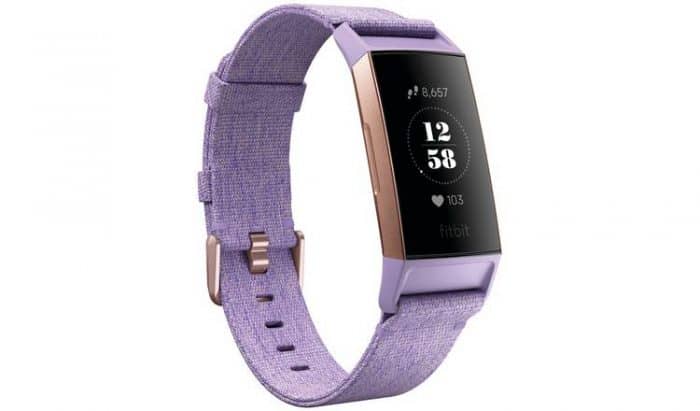 It's lavender and rose gold which is perfect for me – so perfect that Mr Frugal said he was scrolling through the different Fitbits available and as soon as he saw this one, he abandoned his search and just bought this one. He honestly saw the colours and just bought it knowing how much I'd like it and I have to say, I'm pleased he did as he was absolutely right.
What's in the Fitbit Charge 3 box?
The Fitbit Charge 3 box includes the activity tracker itself, a small and large strap and the charger.
I have the small strap attached to mine and it's the perfect size for my wrist when worn on the fourth hole – it's a comfortable fit without a great length of strap flapping about.
I'm 99% certain that there was also a small and a large black plastic strap but they never made it out of the box as it was the lavender one I wanted and now I seem to have lost the box so I can't be sure. Why would you want a boring black strap though when you could have this one. 😉
Setting up the Fitbit Charge 3.
The Fitbit Charge 3 was super easy to set up! I just downloaded the Fitbit app, registered myself and linked the tracker to my phone in about five minutes.
I then went online and updated my personal details and added in some goals which I probably could have done on the app if I'd tried but my phone was commandeered by one of the kids for some reason and I was too impatient to wait for them to give me it back. 😉
The battery lasts about a week on a full charge so I've just been charging it every Sunday evening since I got it and it hasn't ran out on me yet – I've had a couple of reminders that it's going to need a charge though.
What does the Fitbit Charge 3 actually do?
Aside from looking pretty on my arm, the Fitbit Charge 3 does a whole lot extra and has been great motivation for me to get up off my backside and get moving more.
It counts steps which is the main reason I wanted it but aside from that, it also tells me how many calories I've burned so far that day, the distance I've travelled, what my heart rate is, how many flights of stairs I've climbed and also how many active periods I've had that day. It also tracks sleep too and accurately lets me know on a morning that I haven't slept very well the night before!
The app is fantastic with a dashboard that tells me everything I need to know at a glance.
I've set mine to give me a gentle reminder every hour if I've not been active so if there's an hour between 9 am and 8 pm where I haven't done 250 steps, it'll vibrate to let me know how many steps I need to in order to hit 250 steps that hour. I'm genuinely surprised by how many times a day I get that reminder when I'm at work because I'm sat at my desk working away in my own world but I always make an effort to get up and hit that target now even if I just walk to the toilet and back. 😉
I also love that it's water resistant up to 50 metres which means if you're a swimmer, you keep it on in the pool to track your swimming progress. I'm not a swimmer personally but the fact I don't have to worry about remembering to take it off when I jump in the bath is fantastic!
Another feature I love is the fact that, because it's linked to my phone, I can read texts and see who's calling me and I've been told that if I had an Android phone then I'd even be able to reply using the Fitbit Charge 3 too. I'm an Apple girl so I can't confirm that myself but I've been reliably informed that this is the case.
Another feature that I haven't used myself is the GPS feature where you can connect the tracker to your smartphone GPS for real-time stats like pace and distance which I imagine would be really motivating as you can track your progress and chart how much you improve.
Is it worth the money?
Mine's a Special Edition which means that it's slightly pricier than most of the Fitbit Charge 3 models because it has an NFC chip which allows me to make contactless payments using it but I haven't set that up yet to be honest and I'm not sure I'll bother as I probably wouldn't really use it. Mr Frugal bought it without really looking at the features as it ticked both of his boxes – it was a Fitbit and it was exactly my style – anything else was just a bonus. 😉
I personally think it is worth the money – at £129.99 it's one of the pricier models but if I'm going to wear something every day then I want to love what it looks like as much as I want it to be useful and this really does do both.
He got mine from Argos but you can find it here on Amazon if you want a look!
Don't miss out on future posts like this – receive updates directly to your inbox by email by adding your email address here and hitting subscribe. You can also follow me on Twitter, BlogLovin or Networked Blogs and I'd love to see you over on my Facebook page and on Instagram. You can find out more about me here.