Today I wanted to share a quick post to share a few ways to take some time for yourself when it seems like the world around you just doesn't want you to…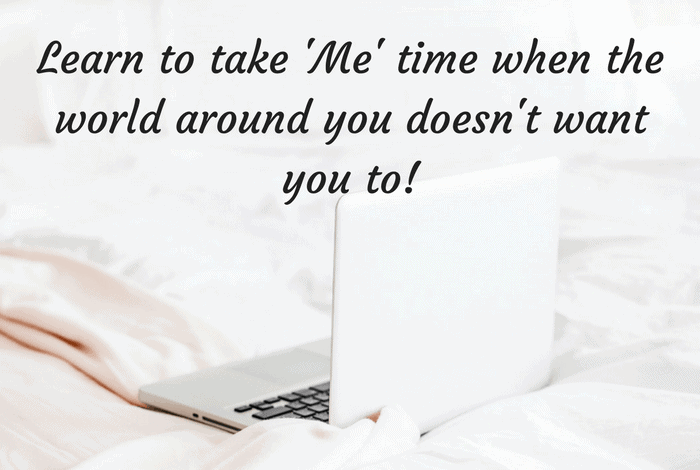 There are lots of reasons why you might feel as if the world is against you taking back a little time just for yourself – it might be because there's so much going on with everyone around you, or that someone or something is demanding your attention more than normal. It could even be because you feel guilty about taking some time back just for yourself or that you feel you couldn't possibly squeeze in 20 minutes here and there as you have so much other more important things to be doing with your time.
Whatever your reason is though, you really need to find a way to work around it because spending time on yourself is something you need to do.  Once you realise that taking time for yourself is actually good for you and as a result, it's good for your family then hopefully, you'll feel better about setting aside the time you need.  It's apparently proved to be good for your mental health and without it, you might start to feel tired, frustrated and unhappy which isn't good for anyone.
It's something I've struggled with in the past myself but I've tried quite hard over the last year or so to focus on because I know that it helps me feel happier overall as a person!  I can't describe how it makes me feel but it definitely makes me calmer, more fulfilled and if I'm feeling stressed or annoyed then it makes me feel better.
You need to decide what you want your 'me time' to look like – is having a bath in peace good enough for you or do you want some time to do something you enjoy? I wrote a post last year about how I create every day which has been great for my own personal wellbeing, especially when I've been feeling the stress for various reasons.
I basically set aside at least 20 minutes each day to do something creative, and by creative, I don't mean that I sit down and do proper crafts and produce great results because I'm the least crafty person around.  There's a lot of things that I like doing during my me time – baking, painting, colouring, sewing – all of which I don't do to any great level but it's just for me so that doesn't really matter.  Most of my creations you don't see and that's the idea – just me creating for creating's sake without thinking about what anyone else will think or worrying about how it will look for the blog.
If none of these things are for you then don't worry – you might be happy to settle for a bath in peace or time to read a book or a favourite magazine.  When my two were younger, my idea of bliss was a bubble bath with just me in the bathroom – I'd have probably settled for a wee in peace for a good few years! 😉
You might prefer to get out of the house though and go swimming or take a class – there must be something you've always wanted to learn to do.   Speak to your local adult education services and see what's going on in your area and if there's something you fancy, get your name down for it!
I bet a good half of you reading this are shaking your head and thinking that there's no way you could find 20 minutes every day with you as being as busy as you already are but I bet you can squeeze a little bit of time out of your day.  I wrote a post a while ago about how you could make more time in your day with just a few small changes here and there so I definitely recommend having a look at that to see if there's anything you can do.
Get your other half on board to help you by looking after the kids at a set time to free up your time – you can do similar to them so they can enjoy their own me time.  If that's not possible or the thing you want to do is at a time when they can't help then look elsewhere.
If you don't have any friends or family that spring to mind who can help then what about asking some of the other school mums if they want to get together.  I used to do this with two mums from school where we'd take it in turns to do tea once a week for all of the kids which meant that one night a week for two weeks, I got the night to myself until about 6.30 which was lovely.
So, in no particular order….
Stop feeling guilty about taking a little time out for you.
Work out how you're going to make some time.
Decide what you want to do with your time.
Do it!
Don't miss out on future posts like this – receive updates directly to your inbox by email by adding your email address here and hitting subscribe. You can also follow me on Twitter, BlogLovin or Networked Blogs and I'd love to see you over on my Facebook page and on Instagram