Here's my cheat's version of a pretty teacup candle using tea lights and my favourite mug! Super easy, super cute and would make a great homemade gift!
I love candles and in the past, I've thought about making my own so I could make something individual that would fit in with my home. The problem with making my own is that it involved buying the things I needed to make them and when I added the costs together with the time and effort involved then I figured I was better off sticking to buying the ones that I LOVE from Primark which smell amazing, last for ages and don't break the bank!
But even armed with my Primark candles, I still wanted to make something a little bit more 'me' if you know what I mean so I decided to try and make a pretty teacup candle using tea lights in my favourite mug using a bit of a cheat's way of doing it.
I used some of the maxi tealights that I bought from Morrisons last year rather than faffing about with buying the things I needed and doing it all the proper way. 😉
All I did was pop my mug in a big pan of hot water (the water was about half way up the side of the mug) and I added a tealight (minus the metal casing part) to the bottom of the mug.
I gently heated the water until my tealight had almost melted and then I lifted the wick and the little metal plate it was attached to out of the cup.  I then popped in another of the maxi tealights and let that melt for long enough until the melted was up to the same level as the wax that hadn't yet melted.
Then I just took it off the heat and let it to cool completely!
How easy was that?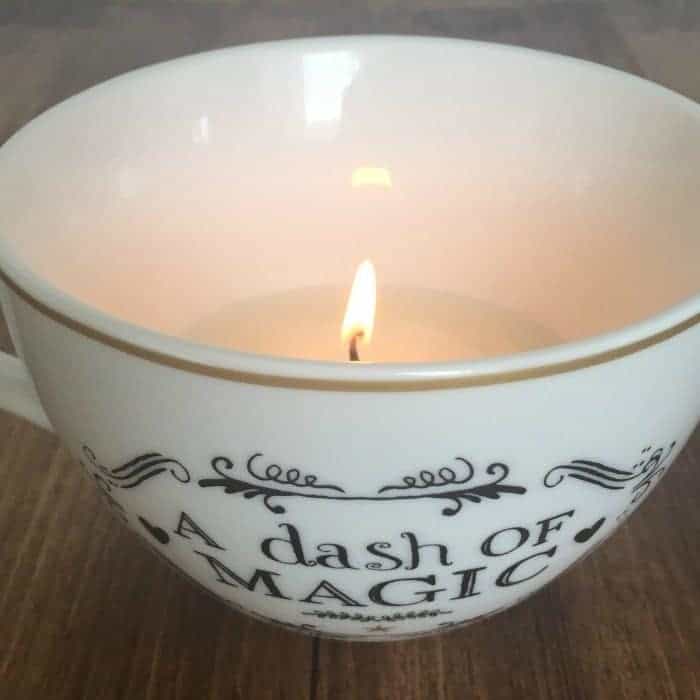 Oh, and if you want some tips on how to make your candles last longer then this is your lucky day!
Don't miss out on future posts like this – receive updates directly to your inbox by email by adding your email address here and hitting subscribe. You can also follow me on Twitter, BlogLovin or Networked Blogs and I'd love to see you over on my Facebook page and on Instagram.
Have you thought of setting up a blog of your own? Here's my step by step guide to help you!