Remember our annual family trip to the Trafford Centre that I told you about the other day?  Well here's part two….
We usually go shopping on the Saturday of our Trafford Centre weekend and sometimes pop into Manchester if there's anything going on but this year we were invited to visit Conkers on the Saturday as part of a bloggers event.  I'd already booked and paid for our hotel so I couldn't change the date of the Trafford centre weekend so we were in two minds about whether to make the trek from Manchester to Conkers.
I'm really pleased we did decide to go though because we had an amazing day and I caught up with some very lovely old blogging friends and made some new friends.
In case you don't know, Conkers is in Derbyshire and it's website describes it as an 'Award winning attraction at the heart of the National forest.  A unique mix of indoor and outdoor experiences that will keep your family engaged for hours'!
It's a huge place, over 120 acres of indoor and outdoor activities including an assault course, a barefoot walk, high and low ropes adventures and much, much more.  There's even a train to get you from one side to the other!
After some lovely hugs with some old friends, we set off on a treasure hunt to try and find a clue that would get us a mysterious prize in the second part of the day.  This was the easy part as Mr Frugal (AKA Competitive Dad) did most of the running around here while I stood and chatted with the lovely Becky whose husband was attempting the assault course and the maze with her son.  After we (meaning competitive Dad and the kids) had got all of the clues and figured out the secret word, we headed over to the Bushcraft area for the next part of the day!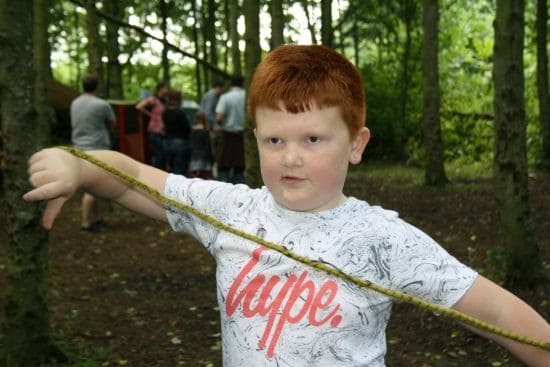 I could tell instantly that the kids were going to love this part of the day when we were handed everything we needed to build a den and a fire!  Master Frugal had rather ambitious plans for our den so he went back and asked for another kit (resourceful?) so we had two of everything.  This meant our den had a little carpet which was much appreciated when I sat down to watch them battle to not only start our fire but also to keep it going, which is a lot harder than you would think.
Then we got our treat for guessing the work in the treasure hunt – marshmallows!
We were having so much fun that we really didn't want to move on to the next part of the day but we reluctantly left our den and headed to the Barefoot Walk which I had pictured in my head as being a nice walk through a field in my bare feet.
Nope, not even close.
The barefoot walk consists of 450m of sensations!  You walk through sections of water, timber, bark, coal, pebbles, wood, clay and mud and I'll be honest, I squealed more going around there than I would have done on a rollercoaster!  Master Frugal who was determined he wasn't going to do it wanted to do it again as he had so much fun.
We walked (slowly) over to the train after that and were taken to the centre for our lunch and another catch up with the lovely Becky.
There was so much there that we wanted to do after lunch when we were told we could just wander so we started with the play park which was so good that the kids ended up staying in there for an hour before deciding that it was home time!
We'll definitely be going back there though as we missed so much.  In fact, I wish we lived closer because even if we went again, we still wouldn't see it all.
Maybe this could become part of our annual Trafford centre trip!
Don't miss out on future posts like this – receive updates directly to your inbox by email by adding your email address to the box on the top right of this page and hitting subscribe. You can also follow me on BlogLovin or Networked Blogs and I'd love to see you over on my Facebook page and on Instagram.