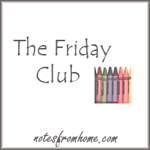 The theme for this week's Friday Club is encouraging learning at home which is something that I'm really interested in at the moment.  I thought this would be the ideal opportunity to share one of my old posts with you about the sorts of activities we do to bring our favourite books to life.  We've done this with quite a few books lately but our favourite is still Aliens Love Underpants because it's such a funny book and there's so many activities you can do that you can link to the book.  So without further ado, I present you, An Alien Afternoon – the repeat 😉
One of our favourite books is Aliens Love Underpants so seeing as it's raining outside (again) and I didn't fancy reading it for the third time we decided to have an Aliens Love Underpants afternoon.
First we made an underpants shop!  I traced some of the underpants from the book (I had to trace them as I'm pants at drawing – see what I did there lol) and then the kids decorated them.   Then we set up shop in the dining room and Miss Frugal gave us all some money to buy underpants from her.  We were having fun until Mr Frugal asked her if he could return a pair because he had bought them for me and I couldn't fit my bum into them!  Cheeky bugger.
After they got bored with playing shops, we did some some colouring in using the Aliens Wear Underpants printouts we found here and a really simple wordsearch we found here.  Finally we decided to make our own spaceships, which sounds way more complicated than it actually was- All we did was colour in two paper plates each and stuck them together to make our spaceships.  We just coloured ours in and stuck them together with a few bits of sellotape but you could make them much more authentic if you use some tin foil or paints.
I'm trying to encourage Master Frugal to learn to read at the moment at the same time as encouraging Miss Frugal's growing love of reading so if anyone has any ideas for books they might both enjoy I'd love to hear them as we're planning to do this again soon.
Here are the other entries in this carnival, please click through to read other posts about encouraging learning at home:
Ella at Notes From Home gives her ten tips for encouraging learning at home.
Jen at Table for Eight writes about how she gets her children to do their homework.
Not So Single Mum at Diary of a (not so) Single Mum writes about encouraging her daughter in learning a new language after moving abroad.