Before I had children I was a bit of a makeup addict – forever searching for a lipstick that really would last all day and a mascara that wouldn't smudge and leave me looking like a panda before lunch. I remember my makeup bag being filled with all sorts of things – all promising to make me look beautiful and looking back, I bet I probably spent a small fortune on the contents of it.
Then along came the kids and my priority was no longer trying to look good. It was enough sometimes just to make it out of bed and get dressed when they were both toddlers so managing to find the time to actually apply anything other than a quick layer of foundation and some lip gloss was a pretty rare occasion for a good few years.
By the time I got back in to wearing makeup on a more regular basis, I had to completely start again with my makeup as most had either ran out, dried up or was long past it's best.  I started with the basics and used cheaper brands than I had previously bought for myself as we didn't have spare money for the luxury brands and that's the way it's been since then.
My makeup bag these days is much more practical with more boring neutral colours that I used to wear but in a complete contrast to my makeup, Miss Frugal has her own ever growing collection that is much less 'budget' than mine is and is much more fun to wear than my plain collection.  She spends most of her pocketmoney on new lip balms and makeup and it's usually me borrowing off her rather than the other way around (although she is inspiring me to treat myself a little more every now and again).
We have lots of fun together watching YouTube makeup tutorials and then practicing on each other and I feel like, finally, I'm actually learning how to put makeup on properly.  I've even had my eyelashes and eyebrows done because they were so pale that you couldn't see them!
Watching YouTube videos with her doesn't just give me tips on how to apply make up though, I've actually picked up a few moneysaving tips on there too so I thought I'd have a go at sharing some of them with you today….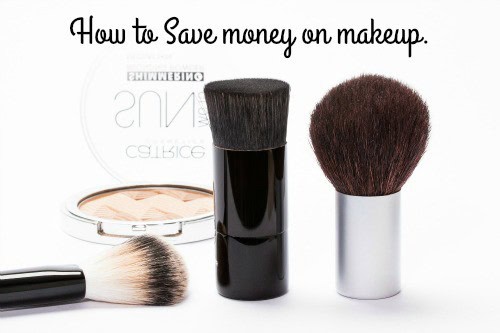 Did you know that pumping your mascara wand in and out of the bottle actually dries it out?  It's much better to twist the wand around in the bottle to make sure it's coated evenly and to get rid of the clumps.
Johnsons No More Tears baby shampoo makes a great eye makeup remover and works out cheaper than the bought version. (This is one I haven't tried but I've heard it from at least three different YouTubers so it must be true ;-))
Cut open your empty tubes of foundation and other makeup to get out the last bits – you can usually get a couple of extra days use by doing this!
Don't use sponges to apply your foundation as sponges tend to absorb your makeup quite quickly.  Try using a brush to apply your foundation or even just your fingers!
Reuse the mascara brush from more expensive brands in cheaper brands because it's often the brush that gives such a good finish.  A quick wash with warm water and you're good to go!
Hold an almost ran out lip gloss or mascara tube under a running warm water tap to help you get the last bits out.  This also helps to open nail varnish bottles that refuse to open!
Try cheaper brands – you might be surprised at the quality.
Have a look in your local pound shop!  Ours sells some quite good brands and even though it's often the more unusual colours, you often find a great bargain.
Try using a small amount of lip-gloss on your cheeks instead of blusher.
Stop your powder compact from breaking up in your bag (mine always does this when I'm about half way through using it) by popping a cotton wool pad inside it before you close it.
Don't miss out on future posts like this – receive updates directly to your inbox by email by adding your email address to the box on the top right of this page and hitting subscribe. You can also follow me on BlogLovin or Networked Blogs and I'd love to see you over on my Facebook page and on Instagram.