I posted our meal plan last week over on Meal Planning Made Easy and today, I thought I'd do something a bit different and show you how well we did at sticking to it.
Monday
Planned – Homemade pizza / Actually had – Homemade pizza
That's a ready-made pizza base to save time and mess and yes, there are crisps on the top as Master Frugal decided to make his own version of a nacho pizza we had on holiday a while ago.
Tuesday
Planned – Teriyaki Beef Stir Fry / / Actually had – Teriyaki Beef Stir Fry
This was unbelievably amazing although I must admit that this is from a meal kit rather than from scratch. It's from M&S and comes with the beef, veg and sauce – I was planning on making this from scratch but Mr Frugal saw this when he popped in for his favourite tuna pate and decided it was fate. He thought he was saving me the trouble even though I was trying to try a new recipe and as it turns out, I'm pleased he did but next time I'm making it my own as it seems pretty easy. The kit just had beef strips marinated in teriyaki sauce, red onion and green peppers and a sachet of sauce and didn't have enough to feed two if you ask me so I added some Singapore noodles to bulk it out.
The kids weren't keen in the slightest which is a good job as it wouldn't have stretched to four so they had kids tea of Quorn nuggets and super noodles. 😉
Wednesday
Planned – Gammon, egg and chips / Actually had – Gammon, egg and waffles
I wanted to use up some Waffles that we had in the freezer so instead of chips, we each had a couple of waffles topped with a little bit of grated cheese, some sliced gammon and some eggs. AMAZING!
Thursday
Planned – Chicken Chimichangas / Actually had – Scrambled egg on toast
In my defence, I was really tired this week so I really couldn't be bothered cooking anything! I was planning to make chicken chimichangas but I decided to go simple and have a little nap instead!
Today's lunch deserves a special mention though! We had posh sandwiches made with the gammon from last night, with some spinach and some mozzarella!
Friday
Planned – Sausage Pasta Bake / Actually had – Sausage Pasta Bake
This is a super easy meal made with Heck chicken Italia sausages, pasta, mozzarella and pesto as a sauce. I was planning on making it with red pesto and adding in some sun-dried tomatoes but that would have meant a trip to the shop which I didn't want to do so I went with the green pesto instead.
Saturday
Planned – Instant Pot chicken and rice / Actually had – Obviously, Instant Pot Chicken and Rice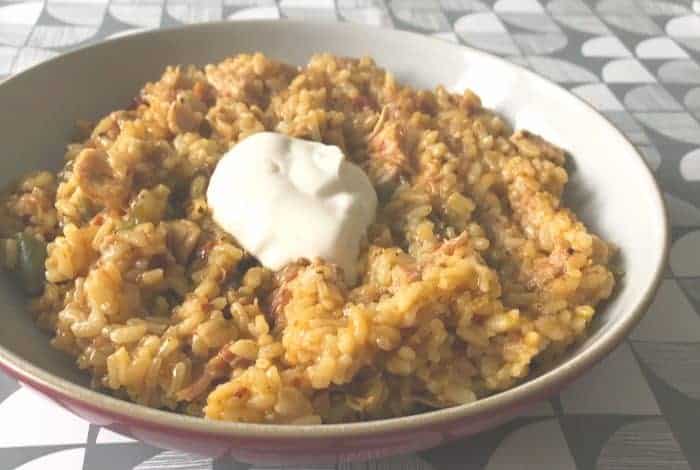 This is our Saturday night staple so it was never in doubt that we would have this! We had chorizo, prawn and shredded gammon in this week's version with some greek seasoning which I know sounds like an odd combo but it was amazing.
Sunday
Planned – Toad in the Hole / Actually had – Costco hot dogs and a fruit platter
I don't have a photo as I left my phone at home by accident when we went to Costco yesterday but we decided to have Costco hot dogs which are giant and cost £1.50 with a drink which is a bargain. They're super filling so we decided to have them instead of our planned toad in the hole which we'll now have tonight instead. We also bought a fruit platter from Costco which we bought to eat at home as it looked so nice. Not a great meal I know but it was perfect for us – especially as I wasn't feeling amazing so it meant I got to go to bed for a couple of hours when we got home.
Don't miss out on future posts like this – receive updates directly to your inbox by email by adding your email address here and hitting subscribe. You can also follow me on Twitter, BlogLovin or Networked Blogs and I'd love to see you over on my Facebook page and on Instagram. You can find out more about me here. Collaborative Post!