I don't know what it is about this time of year but as soon as the sun starts to shine and the skies look blue again, I just want to de-clutter everywhere and give the house a little bit of a mini-makeover.
The de-cluttering has been going on in earnest for the last few weeks and as long as the weather holds, I'll be at the car boot sale tomorrow selling everything I've been decluttering and making enough money (hopefully) to pay for the replacement shower that we need.
I generally have a good de-clutter once or twice a year and every time I do, I'm amazed at the amount of 'stuff' that we've accumulated since the last time and this time around, I've been quite ruthless with the things I've decided to get rid of.  I think my Dad passing away has made me more aware than ever that it's not the things we have that are important but the people we have in our lives.
What I don't sell at the car boot sale tomorrow will be dropped off at the charity shop on the way home so either way, it's gone!
Everything is currently in the garage ready to load into the car in the morning and I've just spent the last two hours cleaning it from top to bottom which means just one thing – it's time to start considering how I'm going to give the decor a refresh.  Everywhere is quite neutral in my house with white walls and neutral carpets which means that a mini-makeover can be done quite cheaply without much effort at all.
I've given our dining room a makeover already just by buying a new tablecloth and a radiator cover that I bought from a friend who was moving house.
For £30, I have a space that looks so much better than it did before – it's amazing the difference that a couple of small changes can make to a room!
Next on my makeover plan is the living room which is getting a long-awaited new carpet fitted next weekend so I'll save the final reveal pictures until after that but I've gone for a medium grey colour to try and disguise the inevitable marks that will no doubt appear within days of it going down.  I'm hoping that the grey should go lovely with the sofa which is a dark grey and the walls which are white – my default wall colour.
I know that grey and white sounds quite dull when it comes to decor but it's an ideal colour scheme for me as it's so neutral that I can update the overall look of the room really easily with the addition of simple things like throws and cushions.
In the past, I've been quite uniform with cushions in the living room and have always just had three or four of the same design in the same size and shape but this year, I want to go for something a bit different and have a mixture of different colours, designs, and even textures in there.
I'm not great at coordinating things like this though so I've been having a look online at sites like Simply Cushions who have a great range to choose from.  I like the fact that they group the cushions together in sets as well as selling them separately and also that you can filter by colours when you're searching.
I've narrowed down the sets that I like to these three…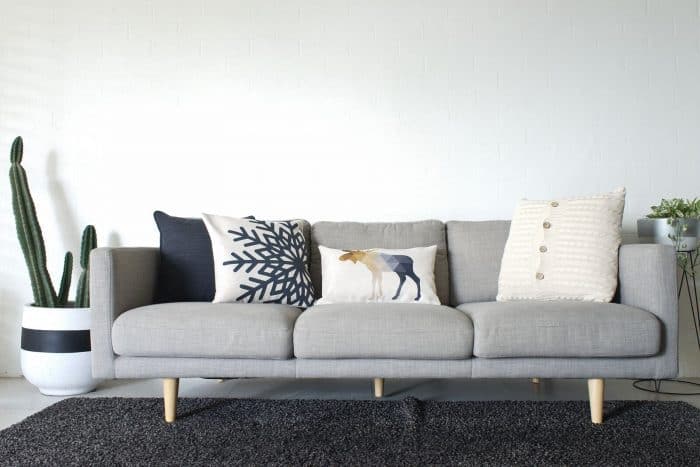 I love them all and I really can't decide which ones to go for although I was also toying with the idea of just buying some bigger cushions like these in a couple of the different bright colors they have and going for bright rather than sophisticated. 😉
Once I've chosen the cushions I want, I'll get some candles that are in a similar colour scheme (is it bad that I choose my candles by colour and not scent?) and maybe a throw to go over the back of the settee but that's all I need and my living room will be ready for Spring.
Don't miss out on future posts like this – receive updates directly to your inbox by email by adding your email address here and hitting subscribe. You can also follow me on Twitter, BlogLovin or Networked Blogs and I'd love to see you over on my Facebook page and on Instagram.